In Today's Performance, the Role of …
In 1954, Shirley MacLaine, then 20 years old, was hired as a member of the chorus of the Broadway show "The Pajama Game." She was also an understudy for Carol Haney, the star. A couple of months in, Ms. MacLaine was about to resign so she could audition for another show, Cole Porter's "Can-Can," where she thought she had a better chance of breaking out of the chorus: "I had my notice in my pocket, ready to turn it in. The subway got stuck in Times Square, so I was twenty minutes late for my own half-hour call … and when I got to the theatre it was ten minutes before the curtain was going up! … So I stuffed my notice back in real quick."
Then this happened: "When I arrived at the St James, across the stage door stood Jerry Robbins, Bob Fosse, Hal Prince, etc. 'Haney is out,' they said. 'You're on.' I couldn't believe what I was hearing … the producers gave me the understudy job, but I never had a rehearsal. I had thought Carol would go on with a broken neck. But Carol had sprained her ankle, so …"
And the rest, as they say, is history.
Last month, I was at a Broadway show featuring someone whose story may prove similar, so you might want to remember her name: Audrey Cardwell.
That afternoon, my wife Amy and I, along with six friends, saw the Broadway revival of "The Music Man" at the Winter Garden Theater. This classic musical by Meredith Willson takes place in 1912 and centers on Harold Hill, a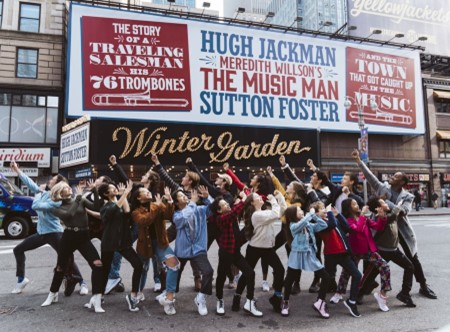 traveling salesman who sweeps across rural towns whipping up enthusiasm for boys' bands he promises to create although he has no intention of actually doing so. Instead, he cons the townspeople into paying for band instruments and uniforms, then hits the road before they knew what hit them.
The story begins with Harold disembarking a train in River City, intrigued by the challenge of carrying out his scheme in this sleepy, stubborn Iowa town. There, he targets the librarian and music teacher, Marian Paroo, for a charm offensive, a ploy to prevent her from upending his unscrupulous plans.
In the current revival, Hugh Jackman plays Harold Hill (which might explain why it was necessary to get the tickets close to a year ago!). We were also very excited to see Sutton Foster as Marian.
After we settled in our seats, we opened the Playbill and out dropped the dreaded little note announcing that there would be an understudy in a role. Hugh Jackman had recently returned to the show after having been out with Covid. And now, at our matinee performance, his co-star, Sutton Foster, was out and her understudy, Audrey Cardwell, was in and about to make her Broadway debut in an iconic lead role. We were a bit disappointed, especially after such a long wait!
"The Music Man" is a special show for us. I don't know how many times I've seen it, but it's a lot! No, it's not a case of being obsessed, though it really is a fun show. Most of the performances I have seen over the years were productions that Amy choreographed or directed.
The first was in the late 1970s at Philadelphia's Northeast Catholic High School for Boys. Amy and I had recently moved to Philadelphia, where I was to begin attending graduate school. Amy had a background in choreography and was thrilled to find a job posting for a choreographer (in between chef and clerical) in the Philadelphia Inquirer. The school needed to replace the long-time and much adored choreographer who had just retired.
Northeast Catholic had a robust theater program, thanks to the principal, Father Joseph Toner, who was highly supportive of the arts, and the wonderfully talented director, Father Joseph DiMauro. Their shows were major community events and tickets were tough to get, even with the school's gigantic auditorium. Girls from the local Catholic girls' high schools were invited to audition.
Amy and I drove to the school together for her interview, which we assumed would last about an hour. I brought something to read in the car while waiting. About three hours later, Amy bounded down the steps of the school, her face lit up with excitement. She had not only been hired on the spot, but she and Father DiMauro had already begun planning how the show would be staged.
I vividly remember sitting in Northeast Catholic's large theater on opening night. The entire audience was brimming with anticipation, the energy electric, akin to a school football championship game. Amy had been working on the show for a few months and had given the dancers some complicated choreography, including some challenging lifts that were new for many of them. But Amy had faith in the dancers, believing they could rise to the occasion. They, in turn, trusted her and were fiercely determined to master the routines.
As the lights dimmed and the overture began, the audience erupted with applause. I was filled with nervous energy, so hoping that all would go well. Amy was in the back of the auditorium, silently praying all would work out as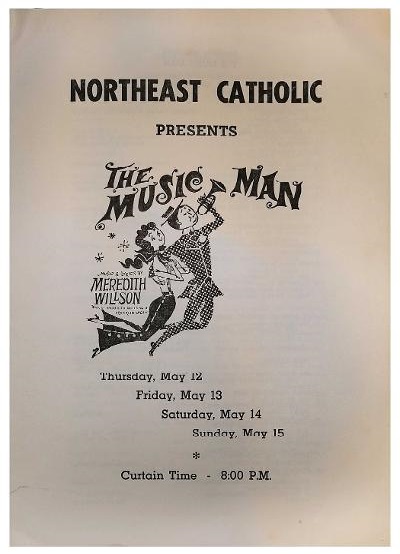 planned.
To say the show was a huge success is an understatement. I had never seen high school students so enthusiastic. The dances were extraordinary. In fact, Shipoopi, a vibrant full-cast production number, received the first show-stopping standing ovation for a dance in the history of the school.
Amy's philosophy about choreographing and directing was that every role, no matter the size, was critical, that everyone's contribution was necessary for the production to succeed. Scripts may designate some roles as leads and others supporting. But the choreographer and director can set a tone in which all members of the cast and crew see their roles as essential, as part of something larger than themselves. Amy always uses the analogy of a 500-piece jigsaw puzzle – one missing piece and the picture will be incomplete. She explained this to everyone, but more importantly, she demonstrated it by helping each to understand their unique value and celebrate it in the context of the bigger picture.
Amy went on to choreograph and direct "The Music Man" several more times over the years, at schools and in semi-professional productions. But the most special for me will always be the one at Northeast Catholic. I was enthralled by the production. But even more, it was the first time I had ever seen Amy's choreography and I was so proud of her.
Back to Broadway…
The audience was abuzz with information about Sutton Foster. Apparently, she had posted on Instagram that she had tested positive for Covid just that morning. Thus, the experience of Audrey Cardwell mirrored that of Shirley MacLaine – each discovered they were going on shortly before the show was to begin!
Understudies are usually quite accomplished in their own right, often having had lead roles in regional and touring productions. They have put in the hours as well as the blood, sweat, and tears, many hoping for that big break. If something prevents the lead from going on, whether planned like a vacation or unforeseen like an illness or injury, the understudy may be plucked from semi-obscurity and thrust into the spotlight. Going from there to headlining a show can take time, but this path, from understudy to star, is not all that unusual. In fact, that's how Sutton Foster herself emerged, understudying the lead in "Thoroughly Modern Millie, and then replacing her when she dropped out. And Ms. Foster went on to receive the Tony for her amazing performance!
Understudies typically have one full rehearsal per week, generally on Thursday afternoons. Those run-throughs ordinarily do not involve the full cast and are rarely with the principal actors. If an understudy is scheduled to take over the role for a period of time, they are likely to have a more substantial rehearsal experience.
The lights dimmed in the Winter Garden. The overture began, snare drums building toward the brassy first bars of Seventy-Six Trombones, the show's signature song. Whenever I hear those first few beats of the snare, I'm transported back to the magical moment at Northeast Catholic.
It's common for Broadway audiences to acknowledge a star when they make their initial appearance on stage. Hugh Jackman received an enthusiastic and seemingly unending round of applause. Marian the Librarian makes her appearance a few scenes later. As she strode across the stage, some in the audience began applauding, presumably believing they were acknowledging Sutton Foster as they may have been unaware that Marian was being played by an understudy. The applause was tepid, and it felt awkward.
"The Music Man" may be seen as a relatively simple story with timeless themes – virtue triumphing over sin, generosity triumphing over greed, love triumphing over anything and everything that might stand in its way.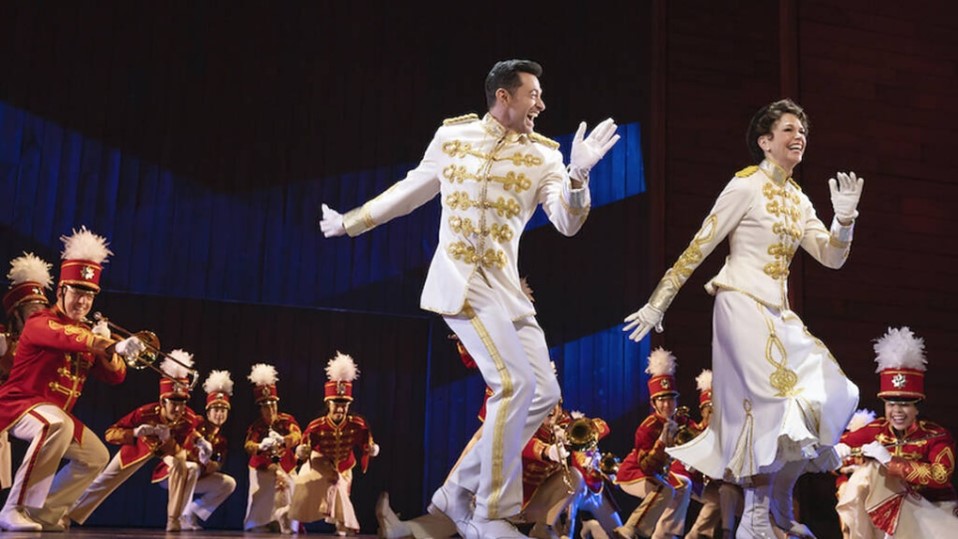 Ultimately, though, the show's central message is about the power of music, it's capacity to move people, uplift spirits, unite a community and infuse it with hopefulness, goodwill, and purpose. Music can open hearts to others and imaginations to the wonder of possibility. Music is the soul of "The Music Man." The magnificent and universally familiar score can, on its own, provide sufficient entertainment value for an audience… Seventy-Six Trombones, (Ya Got) Trouble, Goodnight My Someone, Till There Was You.
But for the show to draw the audience into its emotional center, well, that's a bit more complicated and relies on the deftness of the production team and the talent of the actors. Harold must be seen at the outset as conniving yet harmless, Marian as inaccessible yet vulnerable. Their chemistry is essential to the interplay that allows for their more endearing traits to define who they are.
Despite the likelihood that Hugh Jackman and Audrey Cardwell had, at best, a limited opportunity to rehearse together, their chemistry shone through beautifully. Their harmonizing was flawless, and they were in perfect sync in their multiple dance numbers, including an intricate tap number that precedes the curtain calls.
The gleefulness in the theater during the curtain calls was palpable. The audience and the cast were caught up in the gaiety of the moment, all recognizing that Ms. Cardwell's display of poise, emotional commitment to the role, and extraordinary talent added up to something special. The audience, ebullient with praise, gave her an extended standing ovation.
As the cast took their bows through a prolonged show of appreciation, Hugh Jackman motioned for us to pause as he wanted to share a few words. He began by proudly mentioning that "The Music Man" has provided an opportunity for 21 actors to make their Broadway debuts. Turning toward Ms. Cardwell and embracing her, he smiled broadly as he graciously stated she was among them. She was clearly – and deservedly – exhilarated.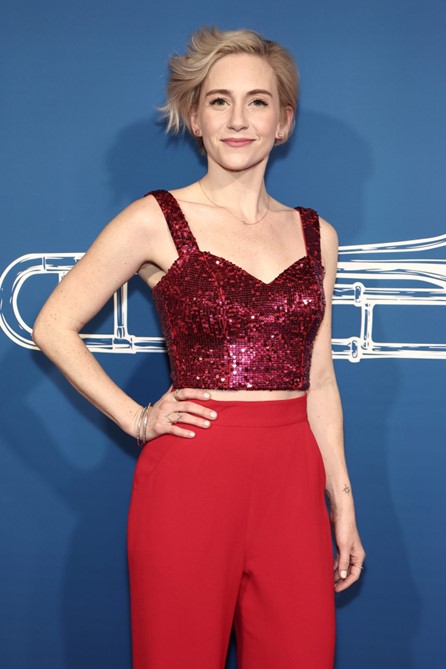 Then Mr. Jackman explained what occurred that morning. Sutton Foster had notified production at 12:17 pm that she had tested positive for Covid. He emphasized that Ms. Cardwell had a mere 2 hours and 43 minutes to ready herself for the 3:00 pm performance. Again, the audience burst into wild applause, as did the entire cast, giddy from the notion that their castmate had just turned in the performance of a lifetime… in front of a sold-out performance, alongside one of the world's most accomplished and beloved performers!
Audrey Cardwell will undoubtedly always remember that day. She gave an astonishing performance. And 1,500 theatergoers who had the good fortune to be in attendance will no doubt long remember that day as well. Will we look back with the thrill of knowing we were present when a star was born? That's hard to say as so many other factors come into play, including some "right place, right time" good fortune. But I hope that her exceptional moment in the spotlight will, at the very least, open many new doors for her.
Nevertheless, I can't help but feel there's something more about what we had the privilege of being part of that day. In the grand scheme of each of our lives, opportunities and obstacles appear before us, those moments that test us and come to define us, shaping our sense of self.
That may well have been such a moment for Audrey Cardwell. The audience had the great pleasure of watching her performance. Indeed, it was stirring. But it could not have come about without having devoted herself to the hard work that led to that moment. The applause she received brought me back to the long, late nights Amy spent with those talented high school kids. I was moved by their unwavering motivation, rehearsing the same steps over and over to get those difficult dance sequences just right. Their reward was the applause, but I suspect even more it was the pride in a job well done.
I trust that Ms. Cardwell is as proud of her work preparing for her performance as what she accomplished on stage that afternoon. This says more about who she is as a person than a performer. All those hours, all that effort, aware that an audience might never see her on stage. That she may never hear that validating applause. That, for me, is what I found most inspiring about Ms. Cardwell that day, the dedicated work ethic that enabled a highly deserving person to not only meet her moment but transcend it.