The Big Thompson Canyon Flood of 1976
I recently heard about a 45th anniversary memorial service for victims of the Big Thompson Canyon flood. Here's how the flood was reported in the in the Coloradoan: On July 31, 1976, the skies opened up over the Big Thompson Canyon, setting off the deadliest natural disaster in Colorado history that claimed 144 lives... A year's worth of rain fell in 70 minutes. Clouds piled 12 miles into the mountain sky unleashed a deluge, setting off the most powerful flood since glaciers retreated 10,000 years ago. The chaos along an otherwise trickling Big Thompson River… carved out a chapter in the history books as Colorado's deadliest natural disaster.
Amy and I were there on that fateful day. And as much as that day has become powerfully etched in my memory, so is a phone call I had about the experience three days later.
In the summer of 1976, Amy and I took a four-week cross-country camping trip, setting out in the second week of July. Amy's Dad was rightly concerned that my old hand-me-down Toyota, aptly nicknamed Rusty, could give us trouble, so he lent us his relatively new Dodge Dart. Off we went with our blue tent, sleeping bags, a Coleman stove and lantern, and an abundance of excitement about our first adventure together.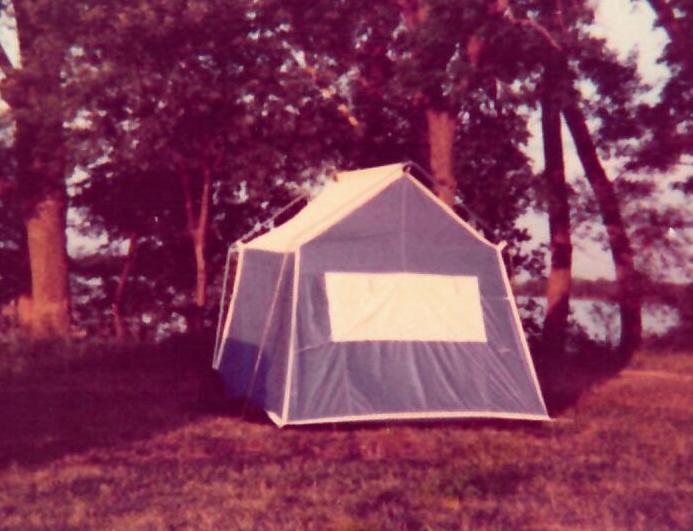 Our plan was to take a slightly southern route out west, then head north from Los Angeles to San Francisco and take a northern route back to the east coast. Armed with a stack of AAA maps, our goal was to travel through at least thirty states along the way.
Amy's brother Mike and his then-wife Pat were also taking a cross country trip that summer. They were traveling in a van, which was large enough to accommodate a bed and all the basic supplies for extended travel. We had planned to rendezvous in Colorado in late July. Amy and I had assumed that wherever we met them, most probably at a national park, Mike and Pat would stay in their van overnight while we would set up our tent in the park's campground.
Mike then told us that when he mentioned his plans for a cross-country trip to some colleagues, one said that his family owned a small cabin on the ridge of Big Thompson Canyon which they weren't using that summer. He insisted that Mike and his family stay there if we thought we'd be in the vicinity. The key was under the mat, he said, adding that we should make ourselves feel at home.
Given the generous offer of the cabin, we planned to meet Mike and Pat on the morning of July 31 at Big Thompson Canyon. After settling into the quaint two-bedroom cabin, we drove down a steep and narrow road to a visitor parking area at the base of the canyon. On the way down, we guzzled Mountain Dew and sang along with Peter Frampton as he crooned Baby, I Love Your Way on the car radio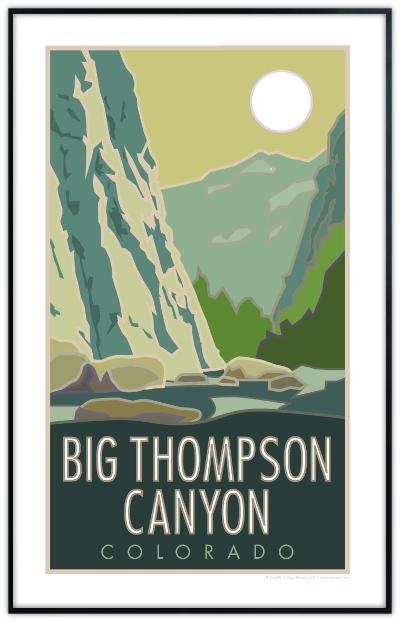 .
Formed by the Big Thompson River, the canyon is part of the Estes Park system. It was an awesome sight. Towering granite walls emanate from the complex boulder formations along the riverbank and rise majestically skyward, forebodingly steep in some areas.
We walked along the riverbank's giant rocks, all the while taken by their breathtaking size, some fifteen feet in length, some considerably more. We later learned that some of the boulders weighed over 100 tons!
The weather was perfect and the sky was clear as we started our hike. About an hour later, in mid-afternoon, a light rain started to fall. It was just a drizzle and we continued our hike through the canyon, following the riverbank and trails along the way. Kayakers and rafters were delighting in the mild rapids, and the more experienced hikers, loaded with camping gear, were in seventh heaven, traversing the bigger boulders and wading through the shallows.
It was at once tranquil and spectacular. The canyon walls had an enveloping contour. It felt like we were being shielded, protected. At the same time, we were awestruck by their height and splendor. The shimmering sun added vibrancy to the earthy tones of the magnificent landscape.
As mid-afternoon gave way to late afternoon, the rain began to intensify. It transitioned from a sprinkle to a moderate rainfall in what seemed like seconds. The more serious hikers took all this in stride. They had all the gear necessary to keep dry and wouldn't want to sacrifice a moment of outdoor pleasure because of something as innocuous as rain. The few kayakers we passed didn't seem to be heading toward the riverbank.
We decided not to brave the rain. We didn't have our jackets, and in any case, we wouldn't get back to the cabin until close to dinner time, we thought. It took us a while to retrace our route and get back to our car.
By the time we got there, the rain had grown far more intense, pelting the car windows in a way that rendered the windshield wipers useless. We drove up the steep roads and got back to the cabin, situated close to the canyon ridge, and dashed the very few feet from the car into the cabin, getting completely soaked.
As the evening wore on, the rain grew even more forceful. Pounding thunderously against the roof and windows, it sounded like tympanic chaos, brutally unrelenting. The lights in the cabin began to flicker, on and off and on and off repeatedly, before going off completely. The phone rang. We picked it up. No one was there. Every few minutes it would ring, then stop. The sky crackled with lightning, the bolts so close it seemed as though they would pierce the cabin, splintering it into a smoldering heap.
The lights, the phone, the pelting rain… the cabin seemed possessed. But being young and adventurous – well, if we're being honest, oblivious and immature – we thought it more fun than worrisome. We cooked some spaghetti, topped it with marinara sauce, and there was our dinner. We discovered a stack of board games in a cabinet and had a fun hour or two playing Monopoly by candlelight.
At some point in the late evening – I can't recall when – the rainstorm abated. We took a deep breath and even laughed at the predicament. And, wow, we thought, how lucky we were to have gotten out of the canyon just in time. At that moment, "how lucky" meant that we avoided getting totally drenched. We had no idea that we were lucky on a whole different level of magnitude.
The next morning could not have been more beautiful. The sky was cloudless, gorgeous, and the sun radiated a soothing warmth. Because of our travel schedules, we were not able to head back into the canyon for more sightseeing and hiking. Mike and Pat and Amy and I packed up our respective cars, said our good-byes, and went our separate ways, steering around downed trees and large branches as we drove out of the area.
Back then, our only media device was our car radio. We kept the radio on the FM band for music, picking up reception from whatever local stations we were in transmission range of – rock, bluegrass, country – lots and lots of country stations out west. We rarely listened to AM radio news reports. We had no idea about the tragedy that took place at the Big Thompson River in the canyon just below the cabin. We did see some emergency vehicles and related activity as we left. But being young and carefree, we didn't pay much attention.
Amy and I generally called our parents every few days to check in. A day or two before we got to Thompson Canyon, we had spoken with our parents and we let them know where we would be over the next few days, adding that we might stay in a nearby cabin or camp out along the river.
I didn't call my parents again until three days after we left the canyon. My Mom answered with a tentative hello.
"Hi Mom," I said casually, much as I would on any other call to her.
Then my mother said my name. She said it slowly, questioningly, as though it was completely unexpected that I would be calling. There was a surreal quality to the tone of her voice. It sounded full of dread but with a just a hint, a breath, of relief. Then she hesitated, and a second later started to cry. To this day, I remember so clearly how she said my name. It's haunting.
At that instant, I assumed something horrible happened to someone at home. "Mom, what's going on? Is everyone ok?"
Sobbing, her voice quivering, she asked, "Don't you know what happened at Thompson Canyon?"
"No. Other than there was a ton of rain. Really intense. Why? What happened?"
Then she said there was a terrible flood in the canyon. Lots of people died. They don't know how many, a big rescue effort was under way, but it was a lot of people, including campers.
I was stunned. I felt horrified, not to mention stupid and ignorant. It never occurred to us that the rain we experienced would produce a catastrophe worthy of national headlines.
My mother then told me that my father and Amy's father were scheduled to leave that afternoon for Colorado. They had made arrangements with the local authorities to look at the bodies that had not yet been identified. A helicopter was going to take them to the place where the bodies were being held.
In the course of three unimaginably grueling days of knowing about the awful tragedy in Thompson Canyon and that we were there – conceivably in the campgrounds right on the riverbank – our parents were succumbing to the horrifying possibility that we were among those who perished.
While Amy and I were spending three fun-filled days circumnavigating the Rockies and drinking freshly brewed Coors in Golden, Colorado, our moms and dads were living through every parent's worst nightmare.
One hundred forty-four people lost their lives on July 31, 1976. More than 250 suffered injuries. Several hundred people had to be helicoptered out of the canyon the following day, that very sunny August 1. Five people were never found, including two-year-old Rochelle Rogers and ten-year-old Teresa Graham.
While we were lucky in the most profound sense, so many were not. A slice of America was lost that day. People from all over the country. All ages. Chad Haskell was 5 years old. Valah Constance Greenlee was 84. Five people from the Mares family lost their lives, Renee and James Jr. and their three children, Allyson, 5, Ricky, 6, and Jamie, 8. Residents, campers, tourists… the ferocious rampaging torrent spared no one in its path.
And then there were the heroes, like Sgt. Willis Hugh Purdy. As reported in the Coloradoan: "I'm stuck. I'm right in the middle of it. I can't get out..." said Colorado State Patrol Sgt. Willis Hugh Purdy in his last radio transmission before being swept away, killed by the water. He's credited with saving hundreds of lives by issuing evacuations lower in the canyon.
Our parents' agony lasted three days. It was concentrated, intense, but mercifully short-lived. But for the families of 144 people, the pain, loss, and presumably feelings of helplessness have lasted 45 years. Thanks to the 1976 Big Thompson Flood Memorial, families and loved ones have a common space to honor those they lost. Reading through the tributes, I am inspired by how many of those who lost loved ones in the great flood turned their attention to helping others. Their devastation opened their hearts. They know what soul-wrenching pain feels like and became moved to help others sidestep it or get through it.
Judy Seibert Kornegay lost her parents, Casper and Annie Seibert, who had visited Big Thompson Canyon from Texas. She shared her thoughts at a memorial service for the victims: "I'll never quit missing my parents. I can only make use of past hardships… to help someone who is unfortunate and who is faced with similar difficulties of sudden loss. Then something good can come of what we have endured, and the world will be a better place because of it. The good we do each day for others can live on, long after the sadness has gone, and the pain has passed away. I love you Mom and Dad."
Amy and I will never know who, if any, of the people we passed on that July afternoon – those frolicking in the river or soaking up the sun and the freshness of the outdoors – didn't live to experience that next sunny day. Or if the parents of Rochelle Rogers have ever been able to enjoy a completely unconditional smile in 45 years.
There are moments in our lives that touch us in the most powerful of ways, visceral reminders of the importance of cherishing life. Amy and I grew a little older on that extraordinary day in 1976, and maybe a little wiser. My mother's anguished voice that day still rings in my head and my heart still aches at the thought of having put her through that.
But above all, I find it so inspiring that the families of 144 people have found purpose through their tragedy, gathering to honor and remember their loved ones on the anniversaries of the Big Thompson River flood, extending emotional generosity to uplift one another and through their bonds strive for inner peace.